Time Flies When You're Having Fun
[Sondra]
Greetings! I hope this post finds everyone doing well.  For those dealing with recent or current weather issues and consequences of it, our hearts and prayers go out to you! I'm coming at ya from the lodge in our final days in AK.  I had intended to blog more over the summer but the season just flew by so fast!  I do, however, have LOTS of ideas for blog posts and beyond so I'm looking forward to working on those this fall!  Stay tuned.  I thought it would be fun to do a little recap of the summer at the lodge / in Alaska for those interested.  The last time I wrote about the goings-on here was in my June post which was about pre-season preparations.  Perhaps some of you saw some pictures I posted on our facebook page throughout the summer.  Looking back, I'm reminded of the wonderful summer we had with such great people in this beautiful place. We are so grateful. 💗
Here are some shots of the awesome WPL staff doing their thing.
It's always special to see and catch up with long-time guests who have become dear friends!  (sorry if I don't have a photo of you!)  Of course it's also equally fun to meet new people at the lodge and hear their fishing stories!
This slideshow requires JavaScript.
I'm doubly blessed because I get to hang out with friends in town too since most of the summer I'm in Anchorage doing the in-town operations.  Here's a shout out to my football team and yoga and hiking friends!  Thanks for a fun summer! xoxo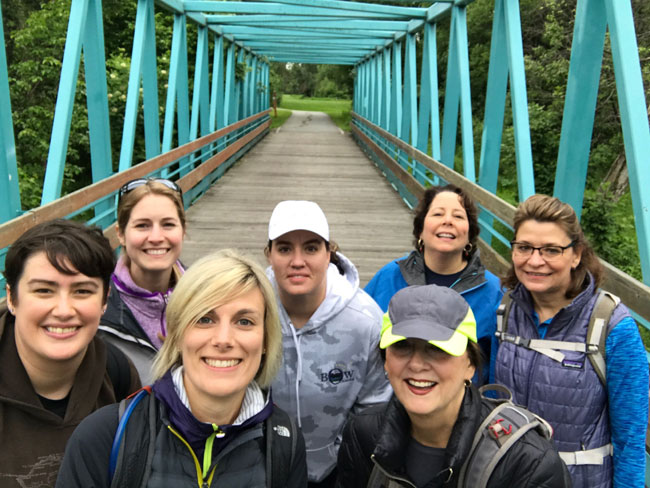 The salmon runs were strong this summer and I was looking forward to getting some fish pictures.  It's so cool to see the salmon holding en masse in the river.  Getting a decent photo of them, however, is not as easy as one may think.  Several factors come into play – water clarity, water stillness, the right weather (sunny), the correct angle of the sun, having a polarized lens filter, the photographer's ability (or lack thereof!) to get into a good unobstructed position above the fish without scaring them away 😆…etc.  As the weather and river conditions are constantly changing, this becomes quite the adventure!  Here are some photos of silver salmon at the end of August.
This slideshow requires JavaScript.
This is our "home away from home" when we're at the lodge.  I'm gonna miss it! As you can see from this recent pic, we're already starting to get some beautiful fall color.
In our last days here we've been shutting down the lodge and property, fishing some, and working to restore an old and very cool pioneer cabin near the lodge which will eventually be a vacation rental, hopefully as soon as next summer.  I'll share more about this in my next post!
This slideshow requires JavaScript.
We saw this energetic little whisky jack along the shore of the lake by the pioneer cabin.  It was so fun watching him get ready for the winter. As a side note, every season I seem to get more excited about wildlife photography and this summer was no exception!  I'm loving everything involved with wildlife/nature photography… planning/researching the outings and where to go, connecting with others for tips and sharing support, being in nature, the adventure of tracking and finding wildlife, observing animals in their natural habitat, the actual shooting of the photos, the editing, bringing people's awareness to nature, and hopefully making someone's day a bit better when they see a photo of something beautiful, cute, serene or majestic in nature.  If you're interested in getting started in nature photography, I highly recommend it!  It's a fun and healthy hobby. 👍 Starting is as simple as taking some photos in your backyard.
Before heading home to Idaho, we plan to spend a few days at Solitude Island for some… you guessed it… solitude 😊 and to close up the cabin for the season.  I'm hoping to see lots of wildlife (like we did last time) as well as fall colors so hopefully I will have more pics to share in the upcoming weeks!  Here's a couple shots from our trip out there in July.  I put more on the facebook page as well.  We saw moose, trumpeter swans and lots of loons!
Even though it seems that everyone is bummed when the summer is over, the fall season is my absolute favorite! Hands down.  I'm already drinking homemade pumpkin spice lattes and reveling in the early fall color. Love love love. 🍂☕
Wishing you a happy start to September!  What are you most looking forward to this fall?