[Sondra]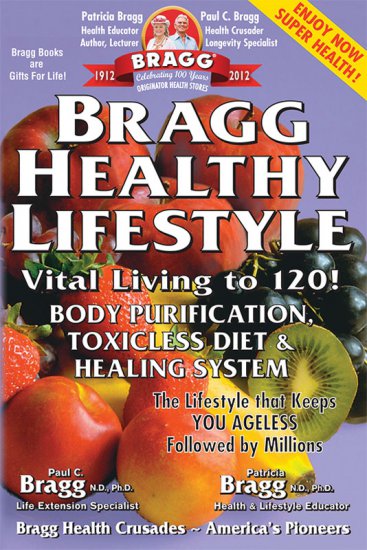 Hi there! I wanted to share about a great book that I've been loving.  I'm always interested in finding good books about wellness.  A few weeks ago I found the book, Bragg Healthy Lifestyle, for about $7 at Sam's Club.  Up until then, the extent of my knowledge about the name Bragg was only that it was the brand of apple cider vinegar that I've used occasionally throughout the last few years.  Now I've learned that the authors of the book, Paul and Patricia Bragg (father and daughter) are the founders of Bragg products as well as health pioneers, lifestyle educators, role models for vibrant living, and longevity specialists.
Here's their mission:  To inspire and educate people of all ages throughout the world to adopt a healthy lifestyle through optimal nutrition, exercise, positive attitudes and spiritual wellness.   
And check out their motto: "You are what you eat, drink, breathe, think, say and do."
You can click here to read their story about how they pioneered modern healthy living.
This is a great book because it presents simple yet foundational health principles and easy-to-follow steps for how to get your health back on track (or if it already is on track, how achieve optimal health and wellness).  Here are some reasons why I'm eager to recommend it.
Their health principles are not new-agey weird stuff but instead they are trusted and time-tested principles that we all know to be true (eat plants, rest, get sunshine, manage stress, exercise, cultivate your spiritual life, breathe, practice gratitude…etc) but even though we all know this stuff on a general level, it always helps to be reminded of why and how!  I know I'm much more motivated to do something healthy when I understand the reasons behind why I should.  Learning how to implement a healthy lifestyle in your daily routine is just as (if not more) important!
I love that many of the charts, diagrams, and lists in the book specifically state that you can copy and share with family, friends, clubs, etc!  [See some of these below!] As a blogger and health advocate I love this because it takes the worry away about sharing something.  The Braggs are interested in getting good health information into the hands of people and they encourage others to be Health Crusaders and share the message!  Below are pgs. 56 & 22 from the book

They incorporate spiritual and emotional wellness which are such important aspects of our lives yet are so commonly neglected in health education.
I love quotes, inspirational sayings, Bible verses on how to live well, etc and this book is filled with them! Yay!
Paul and Patricia actually share a lot about their own story, photos, things they have done or are doing, how they have helped others, etc, which helps the reader understand where they're coming from and to get to know more about them as fellow people who are also on a wellness mission.  They're also really inspiring people.
The book is positive and motivating and has inspired me to make positive changes in my life and to help other people do the same, as the Braggs do.  The book communicates the message that we all can make a positive difference in our own lives and in the lives of others.
Since starting to read the book, I've found that I'm becoming more intentional about some things in my daily lifestyle.  Here's some of what I've noticed so far.
-I find myself eating more salads because raw vegetables and fruits act as scrubbers which clean out and detoxify the digestive system. (ch. 5) When I think of them that way I am motivated to eat them more often!  Who doesn't want a clean body and free-flowing digestive system?!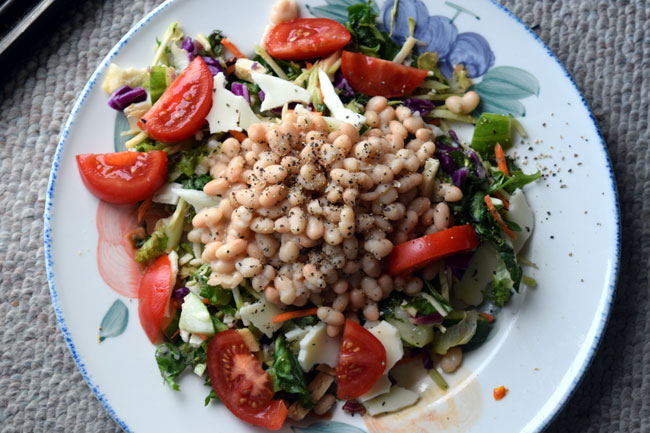 -I'm mindful to spend time in gentle sunshine. (ch. 9) Sunshine is such a healing and energizing element.  Sometimes sunshine gets a bad reputation due to the risk of skin damage due to over-exposure but sunshine also is so essential to our health.  I've personally been known to go overboard with the sunscreen but that can have negative health consequences too.  Anything in excess can be detrimental.  Our bodies do need to be exposed to a healthy amount of sunshine.  I like that the Braggs promote spending time in gentle sunshine (morning and late afternoon sunshine) to reduce the risk of getting sunburnt.  Being mindful about spending time in sunshine is particularly important for those of us in Alaska or other northern areas. 
  Doing something active outside in a natural setting provides a triple whammy of benefits as you are getting sunshine, exercise, and the restorative effects of nature all at once.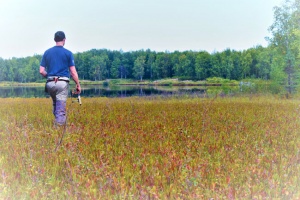 Here's Jason getting some sunshine and exercise in nature.  ->
-I find myself eating less meat because it does take a lot of energy for the body to break down and digest animal protein (why spend energy on digestion when it could be spent on other things?).  The Braggs have other reasons as well for eating less meat (p.17).  I'm more often than before choosing plant-based proteins such as quinoa and beans.
-Most days I now start the day with a glass of water with either a squeeze of lemon juice or splash of apple cider vinegar added to it. (p.48)  I've always started the day with a glass of water but I was reminded how adding a bit of lemon juice or apple cider vinegar to it works wonders in alkalizing and detoxifying the body.  See photo below for even more benefits of this drink.  (p.82)  The recipe for the Bragg's Apple Cider Vinegar Cocktail can be found on their website.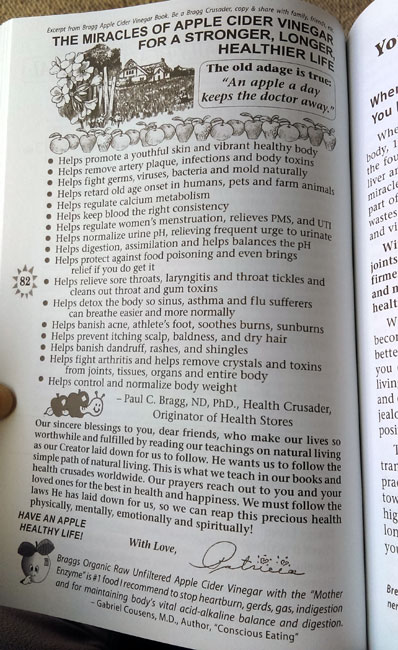 -I'm more mindful to eat a little less at meals than I typically would. (p.51-52) The Braggs say you should always leave the table feeling like you could have eaten a little bit more.  In other words, don't eat until you're stuffed!  How many of us do that? They also recommend not eating a heavy breakfast because your body then has to work hard to digest that big breakfast which zaps your energy right away at the start of the day. (p.29)
Here's what you can expect to learn about in the book:
Chapter 1 – The Bragg Healthy Lifestyle – Vital Living to 120!
Chapter 2 – Steps to Agelessness & Longevity
Chapter 3 – Vitality From the Universe
Chapter 4 – Sharing the Principles of The Bragg Healthy Lifestyle
Chapter 5 – Eat Natural Healthy Foods for Energy & Youthfulness!
Chapter 6 – You Must Breathe Deeply God's Pure Air
Chapter 7 – You Must Exercise Your Body
Chapter 8 – You Must Give Your Body Pure Water
Chapter 9 – You Must Give Your Body Gentle Sunshine
Chapter 10 – You Must Give Your Body Rest
Chapter 11 – You Must Keep Your Body Clean
Chapter 12 – Spirituality Promotes Physical Health
Chapter 13 – Questions & Answers
Chapter 14 – Healthy Alternative Therapies
If you'd like to learn more about all of this, I recommend you look for the book at the library, or (if you want your own copy of it) wherever you like buying your books.  As I mentioned before, I found it at Sam's Club.  You can also purchase it at the Bragg online store.  By the way, I don't have any incentive to promote this book beyond the satisfaction of helping others learn more about having a healthy lifestyle.
Happy reading!  PS. The Bragg website is a great resource for information too!
If/when you read the book, let us know what you like about it or what it has inspired you to do!
If you have health-related questions about anything mentioned in this post or in the book, please consult your health care provider.