We loved this easy and healthy appetizer which could also be served as a light meal or main course.  The concept is the same as an Asian-style chicken lettuce cup except this version uses turkey and kale.  Feel free to experiment with what works best for you.  The turkey filling was spicy from the red pepper flakes and a little bit sweet from the ginger root.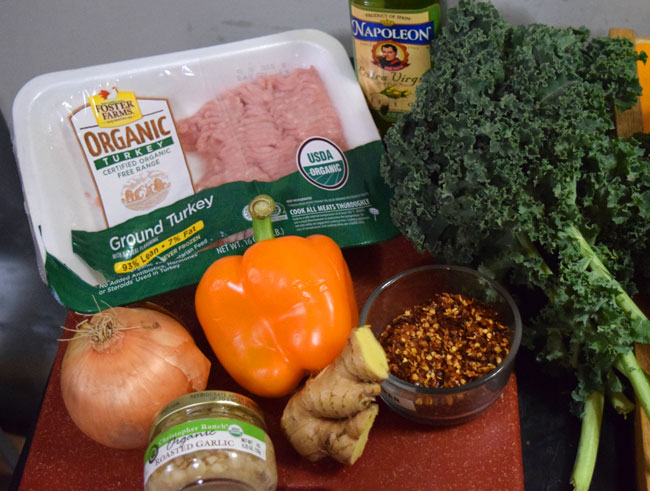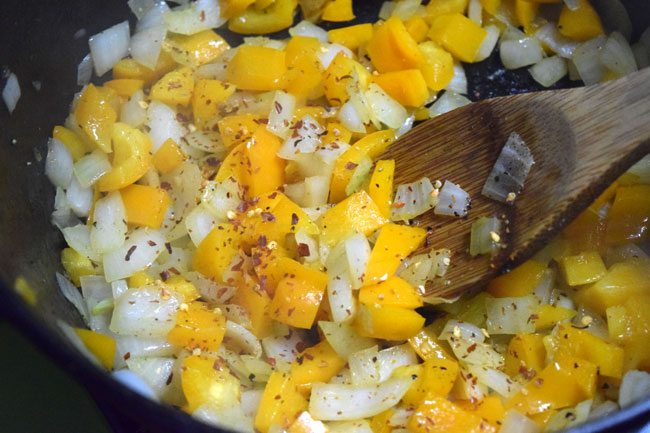 Not gonna lie, these might hold better together with lettuce leaves (the kale was a bit unwieldy for holding the mixture) but if you're willing to be adventurous and want the nutritional oomph of kale, then go with the kale! You can either make them big (more like wraps) using the entire kale leaf except for the stem (shown below), or cut the leaves in half width-wise to make 2 little "kale cups" per leaf (shown below).  The mixture is also good on a bed of kale as a salad if you don't want to do individual cups.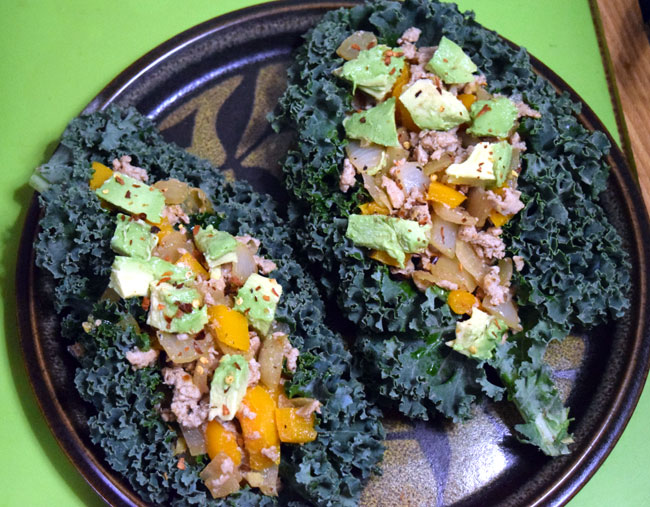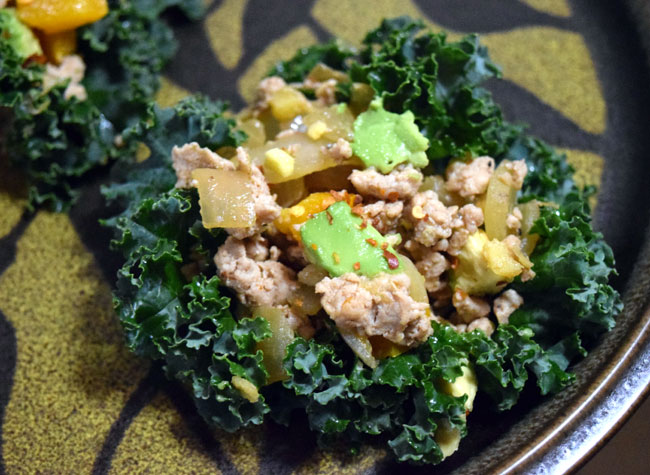 Here are some of the health benefits of this dish:
KALE is high in Vitamins K, A and C.  It also has antioxiant, anti-inflammatory and anti-cancer nutrients.
TURKEY is high in protein and vitamin B3.  Go for organic free-range if possible.
GINGER adds sweet and spicy flavor.  It also provides gastrointestinal relief, aids digestion and has anti-inflammatory effects.
BELL PEPPER is very high in Vitamin C and provides a broad range of antioxidants.
ONION has so many health benefits!  A couple include support for bone and connective tissue and anti-inflammatory benefits.
GARLIC has antibacterial and anti-viral benefits and adds so much flavor!  It also may help aid the metabolism of iron.
OLIVE OIL helps reduce allergy-related inflammation and plays a beneficial role in many systems of the body.
AVOCADO helps control blood sugar and has been shown to lower the risk of heart disease.
(source: whfoods.com (World's Healthiest Foods)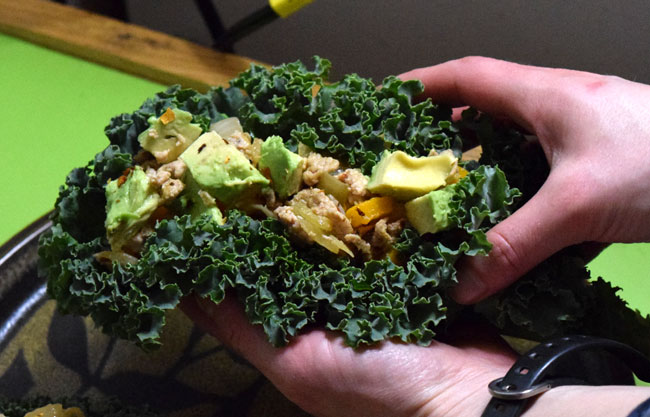 What's your favorite thing to eat in a kale or lettuce cup/wrap?  Stay tuned for an upcoming post on other fun finger foods! 🙂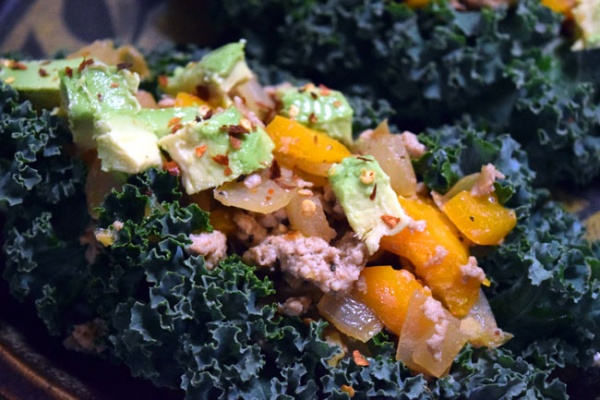 | | |
| --- | --- |
| Servings | to 8, depending on application |
| | |
| --- | --- |
| Servings | to 8, depending on application |
PREPARE KALE (OR LETTUCE IF USING): Wash and dry kale leaves and then cut off each stem below the leaf. Save the stem for juicing or some other application. For large kale cups, keep leaves whole. For small kale cups, cut each leaf in half width-wise (I recommend this). If you'd rather not use the kale as individual cups, you could chop the kale in bite-size pieces and then serve the mixture on top of the kale as a "spicy turkey kale salad." Another option is to use lettuce leaves instead of kale leaves if you'd prefer that. After preparing the kale (or lettuce) as desired, set aside.

PREPARE FILLING MIXTURE: Chop the onion and bell pepper and mince the garlic and ginger if not done already. (For a tip on peeling ginger root, scrape the edge of a spoon against the ginger to peel off the skin.) In a large skillet (or Dutch Oven as I used), sautee onion, bell pepper and ginger with olive oil over medium-high heat until tender. Add turkey and garlic. Stir continually and cook until turkey is firm and no longer pink. Add salt, pepper and red pepper flakes to taste. Add other seasonings if desired.

FILL OR TOP: Fill kale (or lettuce) leaves with the hot mixture. Fill so that leaves are mostly full but not so much that it falls out. If serving as a salad, top the greens with the mixture. Optional: top with avocado pieces, a light sprinkle of red pepper flakes and a light drizzle of sweet chili sauce. Serve immediately and enjoy!