Fast Baked Pancakes with Easy Blueberry Topping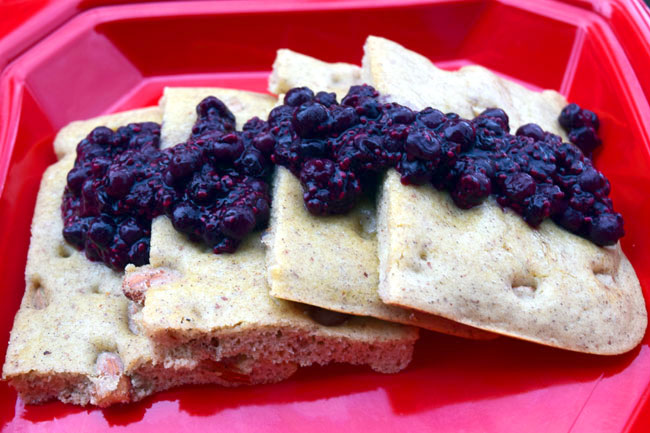 Who loves standing over a hot stove and flipping pancakes for what seems like all morning? That's what I thought! Well, we recently got a toaster oven and I decided to put it to good use making pancakes! I'm really glad I did. They are so much faster in the oven, particularly when you've been making pancakes one. at. a. time. in a small skillet (because your large skillets are packed away deep in a cargo trailer)!  😜
Baked pancakes are simple – and as we've covered – fast!  This is a great idea for making a lot of pancakes for big gatherings or for a lazy weekend breakfast that's no-fuss to prepare because the oven does all the cooking for ya!
The idea is that you use whatever pancake batter you like, whether store-bought or homemade, in any amount that you need.  We use both a Kodiak Cakes mix (which we usually get at Costco but we have also seen it in grocery stores or on Amazon) and Pamela's gluten-free pancake mix (which I got at a health food store) as I'm currently on a special diet.  There are a lot of good pancake mixes out there!
Prepare the batter (follow instructions on the pancake mix package or make your own from scratch). In the batter preparation stage, I like to add a little pure vanilla extract and ground cinnamon (but totally optional depending on your tastes!)
Once batter is prepared, instead of cooking individual pancakes like you normally would, pour all the batter into a sheet pan or baking pan that has been greased with cooking spray (as if you were making a cake, because you are essentially making one big pancake in the shape of your pan). Feel free to add any more additions here (such as fruit, chopped nuts, chocolate chips, etc) keeping in mind that additions with moisture will require more baking time.  Here are some examples below. One is sprinkled with chopped almonds and the other with chopped almonds, pear and cinnamon. 😀  ⇓
Bake in your oven or toaster oven at 350 degrees until a toothpick in the middle comes out clean or until pushing gently on the center of the pancake with your finger springs back without creating a dent.
Cooking time will depend on the shape and size of your pan, shallower pans will require less baking time and deeper pans will require more. For this reason, I recommend shallow pans. For shallow pans, keep an eye on it as it cooks fast! Our toaster oven pan (a shallow 8×8) cooks one generous pancake for one person and takes just a few minutes of baking! Once done, remove from the oven, cool for a minute, slice and serve!
Enjoy your baked pancakes!
For an extra special treat, make this easy and healthy 2-ingredient blueberry sauce to go on top! Just heat frozen blueberries and chia seeds together in a sauce pan on the stove. Stir frequently while heating through. Simmer for a minute, and that's it! Remove from heat and serve hot or warm with pancakes.
The blueberries provide sweetness and the chia seeds provide the thickening agent to turn it into a sauce or a thicker topping, depending on how much chia you add. I recommend about 2 tsp of chia seeds per cup of berries for a thick sauce, more or less depending on the consistency you want. It will thicken more as it cools too so keep that in mind. If it ends up thickening more than you want, you can thin it out with some water or juice before serving. No prob! You can also add a sweetener to your sauce if you want but we find that we like it just as it is. 😊
Baked pancakes also make a great anytime snack! 🙂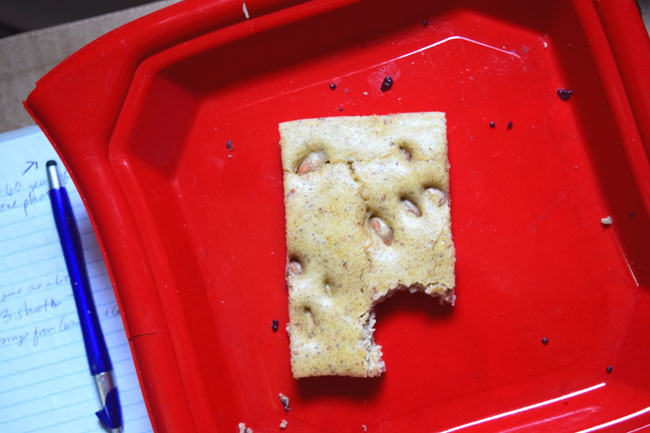 What do you like to add to your pancakes?