Happy Earth Day ~ Easy Ways You Can Create Wildlife Habitat
[Sondra]
Hi guys, hope everyone is doing well! In honor of Earth Day today, I wanted to share some easy ways to create wildlife habitat in your own backyard. I also wanted to let you know that by doing so, your yard, garden or green space can become a Certified Wildlife Habitat through
the National Wildlife Federation!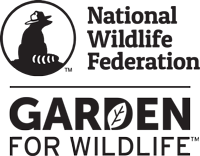 I'm excited to say that our property, Solitude Mountain Retreat, recently became a Certified Wildlife Habitat. When I looked at the checklist for certification, I found that our space already had the elements necessary for certification!  Most of this is due to fact that before we even found the property, God had already provided abundant food, water, shelter, and nesting areas for animals here. The rest is due to some intentional efforts on our part to help support wildlife habitat. 😊
It's pretty simple!  These are the elements that wildlife need to survive and thrive.  (Click on each to learn more.)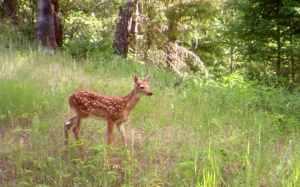 Creating Wildlife Habitat
Whatever you don't naturally have in your green space, you can help create!  I think you will find that providing basic habitat elements for wildlife is quite easy, inexpensive (or free), and fun.  Below is the criteria for becoming a Certified Wildlife Habitat.  Even if you're not interested in certifying your space, you can still use this list as a reference for how you can help support wildlife.
As in our case, your space may have some or many of these elements already!  Here's the criteria checklist in PDF form.
FOOD: Your habitat needs three of the following types of plants or supplemental feeders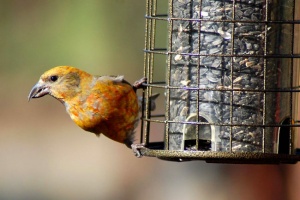 • Seeds from a plant
• Berries
• Nectar
• Foliage/Twigs
• Fruits
• Sap
• Pollen
• Suet
• Bird Feeder
• Squirrel Feeder
• Hummingbird Feeder
• Butterfly Feeder
• Nuts
WATER: Your habitat needs one of the following sources to provide clean water for wildlife to drink and bathe
• Birdbath
• Lake
• Stream
• Seasonal Pool
• Ocean
• Spring
• River
• Butterfly Puddling Area
• Rain Garden
• Water Garden/Pond
COVER: Wildlife needs at least two places to find shelter from the weather and predators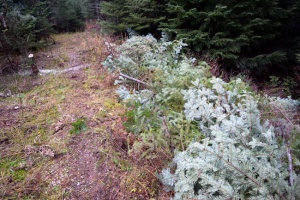 • Wooded Area
• Bramble Patch
• Ground Cover
• Rock Pile or Wall
• Cave
• Roosting Box
• Evergreens
• Brush or Log Pile
• Burrow
• Meadow or Prairie
• Dense Shrubs/Thicket
• Water Garden or Pond
PLACES TO RAISE YOUNG: You need at least two places for wildlife to engage in courtship behavior, mate and then bear and raise their young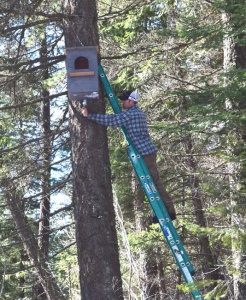 • Mature Trees
• Meadow or Prairie
• Nesting Box
• Wetland
• Cave
• Burrow
• Dead Trees or Snags
• Dense Shrubs/Thicket
• Water Garden/Pond
• Host Plants for Caterpillars
SUSTAINABLE PRACTICES: You need to employ practices from at least two of the three categories below to help manage your habitat in a sustainable way- to better help wildlife, we advocate employing one or more practices from each category
Soil and Water Conservation: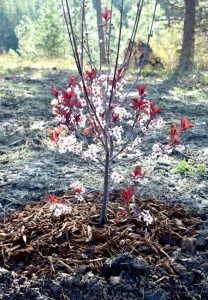 • Riparian Buffer
• Capture Rain Water from Roof
• Xeriscape (water-wise landscaping)
• Drip or Soaker Hose for Irrigation
• Limit Water Use
• Reduce Erosion
• Use Mulch
• Rain Garden
Controlling Exotic Species:
• Practice Integrated Pest Management
• Remove Non-Native Plants and Animals
• Use Native Plants
• Reduce Lawn Areas
Organic Practices:
• Eliminate Chemical Pesticides
• Eliminate Chemical Fertilizers
• Compost
Some Tips for Getting Started!
1)     Most importantly, just do what you can to improve/support habitat, even if it means doing one thing like planting a tree or planting free seeds to support butterfly habitat.  You don't need a certification or meet all the criteria above to make a significant positive impact!
2)     If you're limited in your ability to do much altering to your lawn or property (due to HOA restrictions or such), research/ask what you are allowed to do (use the list above as a reference) and/or choose practices that don't alter your yard such as simply putting out a birdbath or bird feeder or using less water in your home.   Remember that every little thing makes a difference!
3)     Think outside of your yard.  Ask if you can create wildlife habitat at work, at school, along the roadside, at your church, community garden, in your neighborhood, etc!
4)     Get friends and family involved.  Kids will no doubt learn a TON (maybe you will too? 😉) in the process and it will be fun and meaningful to help wildlife together.
5)     If you find that making your green space a Certified Wildlife Habitat is too time-consuming or daunting, give yourself time to do it – maybe even take a year to do it and celebrate your completion next year on Earth Day! 😀
Certify Your Habitat
Once your space meets the criteria, you're ready to apply for certification.  To certify your habitat, go here and then click on "Certify Your Garden."  It's quick, easy and all online.  The application fee of $20 goes toward NWF programs.
The Benefits, Y'all
There are many benefits of becoming a Certified Wildlife Habitat.  Other than the obvious benefits of helping sustain wildlife and our planet, inspiring others to do the same, having a more beautiful and sustainable space to enjoy, and the pride of helping make a positive difference, there are some other cool benefits of becoming a Certified Wildlife Habitat.  One is this awesome sign you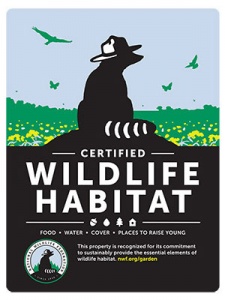 can put up in your garden!  Another is a free one-year subscription to National Wildlife Magazine!  See this page for the full list of benefits that come with certifying your wildlife habitat.
Have fun creating wildlife habitat and let us know how you're celebrating Earth Day! 😀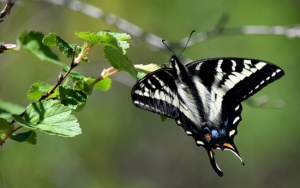 PS. We don't work for the National Wildlife Federation and there is no incentive for us to write/promote this other than the intrinsic and ecological benefits that come from supporting nature and encouraging others to do so too. 😊