Eating Delicious & Nutritious Meals On-the-Go and On a Budget!
[Sondra]
Jason and I eat lunch in town every weekday and because we don't have a refrigerator in our cabin, it's easiest to get lunch somewhere in town on the go.  Because this is practically an everyday thing, lunch needs to be economical and healthy.
Our go-to lunch has been an unlimited soup and salad bar at JB's Restaurant for $7.99.  They have a lot of great options on the salad bar for a healthy and filling lunch.  We love that soup is included too!
However, recently we've been realizing that we can save more money and get an equally healthy and delicious lunch by quickly picking up and putting together a few things from the grocery store.  Here are our ideas and meals.  Hopefully they will be helpful to you as you travel and/or eat out on-the-go!
⇒ 
Best Value: DIY Assembled Lunch from the Grocery Store
Buy at Grocery Store (enough for one filling meal for 2 people):
One bag salad kit (includes salad, dressing and toppings)
One package wild Alaskan smoked salmon (the package includes 4 servings so we had 2 servings for lunch and saved 2 for another meal)
2 bowls of hot deli-made soup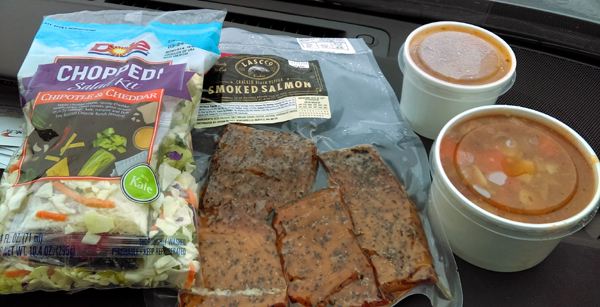 Price of my lunch = $5.09
12 oz soup = $1.98
½ of a salad kit = $1.49
One serving of smoked salmon = $1.62
Price of Jason's lunch = $5.59
16 oz soup = $2.48
½ of a salad kit = $1.49
One serving of smoked salmon = $1.62
Total price for a delicious and nutritious smoked salmon salad and soup meal for 2 = $10.68
Analysis:  Wow!  Great price and super healthy lunch that kept me full for hours. 
⇒ 
Best Variety: Healthy Salad Bar
Unlimited soup and salad bar at JB's Restaurant in Coeur d'Alene, ID = $7.99 per person for lunch
I say healthy salad bar because there are unhealthy salad bars out there!  For real!  These usually consist of bacon bits, a lot of cheese, jello, creamy pasta salads and thick dressings.  I guess just do your best to find a salad bar that includes fresh greens and vegetables and limit your amount of (or bypass altogether) the unhealthy stuff.  Doing your best is what counts!  Enjoy the variety that comes with a salad bar.
Variety is the Spice of Life!
Total price for a delicious and nutritious unlimited soup and salad bar meal for 2 = $15.98    
Analysis:  Awesome deal and great for those with large appetites as it is unlimited eating for one price.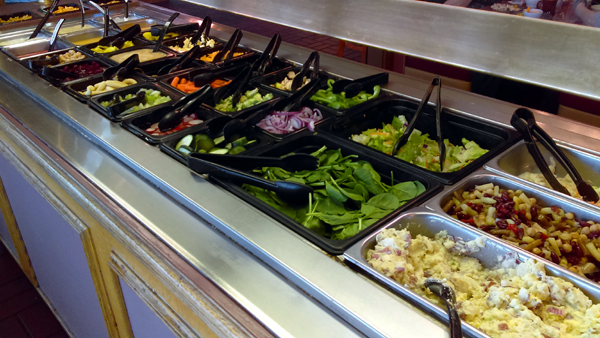 JB's is a franchise restaurant… maybe there's one near you or where you're traveling?  You may want to call ahead and ask if they have a salad bar. 🙂
Also, natural health food stores often have salad bars and/or hot food bars (usually priced per pound).  If you're a Coeur d'Alene local, there is a Hot Food/Soup/Salad Bar at Pilgrim's Market (for $8.99 per lb) and also a nice soup and salad bar at Mulligan's Grille within the Best Western Plus in town (which is $8.99 per person for lunch which includes a drink).
Other Tips for Eating Out (or On-the-Go) Healthfully and Economically
⇒  Drink water y'all.  It's free and the best beverage for ya.  Also, don't underestimate the power of water with fresh lemon juice squeezed into it.  It is delish and alkalizing.
⇒  Stop eating before you're full and take the leftovers with you for the next meal.  Most restaurant meals I've ordered have ended up being two meals for me.  While this is not always the case for someone with a larger appetite or more nutritional needs, it is something to consider as you're eating out. Restaurants tend to give bigger portions than most of us need in one meal.
⇒  Share a meal with your dining companion (same general idea as the one above but you don't end up with leftovers).
⇒  Keep a bag of nuts and seeds with you wherever you go (I keep one in my backpack which I take with me everyday).  If hunger strikes in between meals, you have a healthy and satiating snack.  Resist the temptation to fill this healthy bag with things like sweetened dried fruits and chocolate candies!  Keep it simple, it's not a meal.  (For those who are allergic to or don't like nuts, here are some healthy nut-free and grain-free snack ideas.  
⇒  Of course you can save even more money and eat nutritiously by buying in bulk and keeping food in your refrigerator or freezer (if you have those appliances at home!) 😉 and packing your daily lunches.  We will be looking forward to doing this in the near future hopefully.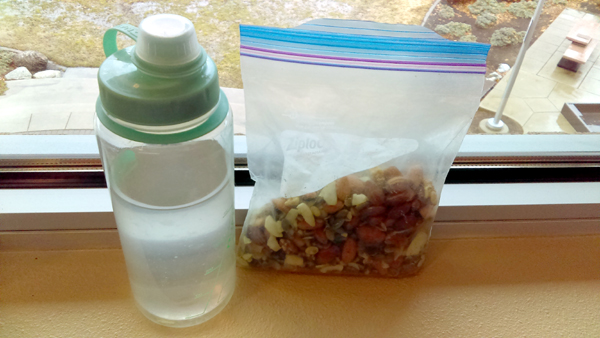 Happy & Healthy Eating! 😀  What are your favorite healthy meals on-the-go and on a budget?