Our Top Picks for Healthy Game Day Finger Foods
[Sondra]
Finger foods are always fun to eat, and especially while watching a game.  With the Super Bowl right around the corner, we thought we'd dish out our top go-to favorites.  These are quick and easy to make (some with no prep whatsoever!) and will accommodate various diets (such as dairy-free, gluten-free, vegetarian, low-carb, nut-free). Here we go!
Pickled Herring or Smoked Salmon on Almond Thins or Rice Thins – These are Jason's favorite finger foods.
Why herring?  Herring is an excellent source of vitamins D and B12, promoting bone and cardiovascular health.
Why salmon?  Great source of omega-3 fatty acids, protein and amino acids.  Protects joints and improves mood and cognition.
Mixed Nuts or Curried Mixed Nuts  (quick and easy recipe below)
Warm mixed nuts (whatever amount you want to make) and a bit of butter (or olive oil) together in a pan on the stove (you don't need much butter, just enough to very lightly coat the surface of the nuts when melted).  Stir the melted butter together with the nuts to coat while continuing to heat on medium heat.  Sprinkle with curry powder (I use about 1 tsp of curry per cup of nuts but it really is up to taste and the potency of your curry powder.  Start with less and then add more to taste), stir ­continually and continue to heat until you start to smell the nuts.  If you're using unsalted nuts, you may want to sprinkle on some salt here as well.  If you're using curry seasoning instead of curry powder, keep in mind most curry seasonings already have salt in them.  Once you start to smell them cooking (total cooking time a few minutes), dump them on a plate and allow to cool before eating (they will get crunchier as they cool).  Enjoy!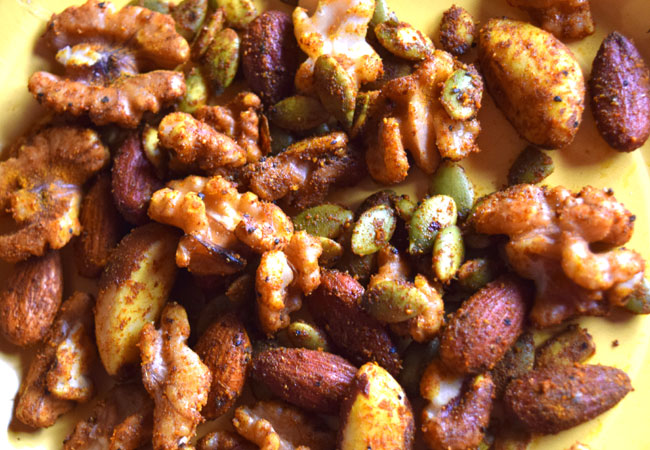 Why nuts?  Nuts provide heart-healthy and brain-healthy fats, along with high levels of essential vitamins and minerals.
Why curry?  A main ingredient of curry is turmeric, which has been found to support detoxification and improve cognitive functioning, among many other benefits.
Raw Cut Veggies with Hummus and/or Guacamole – Who says you need chips with guacamole?  While I personally have nothing against chips 😉 , you can get the same crunch effect with vegetables and they are indeed a more healthful choice. For serious crunch factor, I recommend rutabaga, radish, carrot, celery, cucumber ­and peppers.
Why hummus?  Garbanzo beans (chickpeas) help regulate blood sugar and are high in fiber which aids digestion.
Why guacamole? Avocados are a great source of vitamins, promote satiety, and have heart health benefits. 
Large Kalamata (pitted) Olives – Sure, you could stuff them with something but they're great just as they are too.
Why olives?  Olives provide anti-cancer benefits and their phytonutrients help prevent oxidative stress to our body's cells.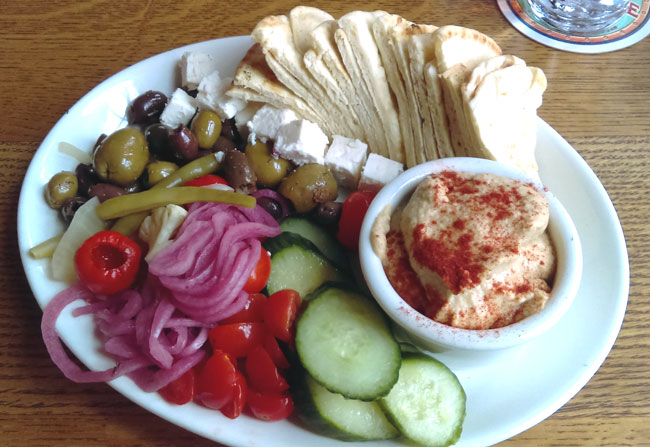 Kimchi (fermented vegetables) or Sauerkraut on ANYTHING! – Kimchi is our new favorite thing!  Use it as you would use a relish or pickle.  It's awesome on sandwiches, burgers, sausages…etc.  We love eating it just on its own too.  Below is a phenomenal kind we just found at Pilgrim's Market in Coeur d'Alene.  Other kinds are great too!
Why kimchi?  Kimchi is a wonderful pro-biotic food which increases levels of good bacteria in your gut, affecting whole-body health.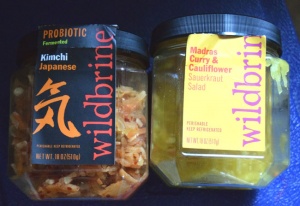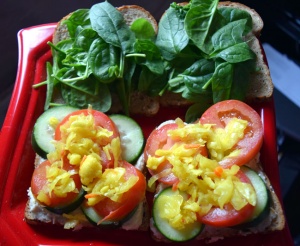 Roasted Sweet Potato Wedges – Back when we had an oven, 😛 I would make roasted potatoes or sweet potatoes all the time. Sweet, savory, easy, delish, and way better for you than fries.  
Simply cut the sweet potatoes in wedges (any size, just make them all the same so they cook equally), drizzle with some olive oil, toss with hands to coat the olive oil onto all sides of the sweet potatoes, sprinkle with salt and pepper, toss with hands again to spread seasoning, spread out evenly on baking sheet and then bake at 375 degrees until tender.
Why sweet potato?  Besides being delicious, it's high in antioxidants and anti-inflammatory nutrients. 
Spicy Turkey Kale (or Lettuce) Cups – Have you ever had Asian-style chicken lettuce cups? These are like that! I just made these the other night and loved them.  Find the recipe here.
Why kale?  Kale is outstandingly nutrient-rich, promoting eye-health and many other health benefits.
Fresh Spring Rolls with Sweet Chili Sauce – Yum, Yum, Yum.  My favorite finger food of all time. New Sagaya Market in Anchorage makes and sells them in the deli and it is my favorite quick meal or snack.  They are so easy but sorta time-consuming to make at home.  They would be fun to make with kids if you make the time!  Just buy the rice wrappers and follow instructions on the package for softening the wrappers.  Fill wrappers with finely sliced veggies (such as red peppers, green onion, carrots, etc), rice noodles, and some protein (I like hard-boiled egg or chicken) if you want. Before rolling up, top with cilantro.  Cilantro is essential!  Serve with sweet chili sauce for dipping (I like store-bought Mae Ploy Sweet Chili Sauce).  This combo is amazing!

image source: halfbakedharvest.com
Here are step-by-step instructions on how to make spring rolls if you haven't made them before.
Why cilantro?  It has antibacterial effects, lowers blood-sugar, and controls cholesterol (along with being super tasty).
Dessert anyone?
Dark Chocolate-Covered Fresh Fruit – An easy go-to option for something sweet.
Why dark chocolate?  Besides making people happy, dark chocolate has been shown to decrease blood pressure and may prevent heart disease.
Happy Eating! 😀
nutrition information sources:  whfoods.com, health.com and mayoclinic.org